W pracy administratora IT zdarza się, że w dzienniku zdarzeń (Event Viewer) Windows pojawią się błędy… Fajnie wtedy było by otrzymać email z taką informacją. O ile w wersjach Windows 7 i Windows Server 2008 była taka opcja wbudowana w harmonogram zadań (Task Scheduler) to w wersjach od Windows 8 i Windows Sever 2012 Microsoft uznał, że ta funkcja jest przestarzała (deprecated):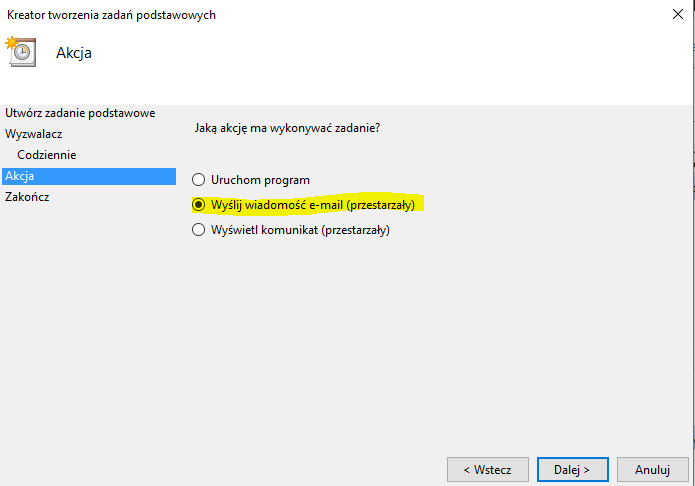 Można jednak sobie z tym poradzić. Przeszukując internet znalazłem stronę, na której umieszczony jest skrypt w powershell, który poinformuje nas o wystąpieniu błędu.
Do uruchomienia funkcjonalności będziesz potrzebował:
serwera SMTP bez uwierzytelnienia,
Ustawienia możliwości uruchomienia skryptów powershell w systemie (set-executionpolicy) przynajmniej na poziomie "Remotesigned"
Umiejętności uruchamiania skryptów powershell w harmonogramie zadań (opisane m. in. w źródle)
Poniżej cały skrypt skopiowany ze strony źródłowej:
# Ryadel.com – Powershell script to send an e-mail through the Event Viewer
# To test this script you can use Powershell to write your own test error log entry in the following way:
# New-EventLog –LogName Application –Source "Test"
# Write-EventLog –LogName Application –Source "Test" –EntryType Error –EventID 1 –Message "This is a test message."
$event
=
get-eventlog
-LogName
Application
-newest
1
#get-help get-eventlog will show there are a handful of other options available for selecting the log entry you want.
#example: -source "your-source"
# "Error" – send only error
if
(
$event
.
EntryType
-eq
"Error"
)
$PCName
=
$env
:
COMPUTERNAME
$EmailBody
=
$event
|
format-list
-property
*
|
out-string
$EmailFrom
=
"$PCName <noreply@source.address>"
$EmailTo
=
"your@destination.address"
$EmailSubject
=
"New Event Log [Application]"
$SMTPServer
=
"localhost"
Write-host
"Sending Email"
Send-MailMessage
-From
$EmailFrom
-To
$EmailTo
-Subject
$EmailSubject
-body
$EmailBody
-SmtpServer
$SMTPServer
write-host
"No error found"
write-host
"Here is the log entry that was inspected:"
Jak widać skrypt nie jest skomplikowany. Należy ustawić zmienne "$EmailFrom" , "$EmailTo", "$SMTPServer", zapisać go jako plik z ozszerzeniem *.ps1 i umieścić w folderze ze skryptami.
Następnie przechodzimy do dziennika zdarzeń (Event Viewer) klikamy na zdarzenie i po prawej stronie wybieramy "Dołącz zadanie do tego zdarzenia" ("Attach Task To This Event…") i tworzymy zadanie z uruchamianym zadaniem w harmonogramie zadań Windows: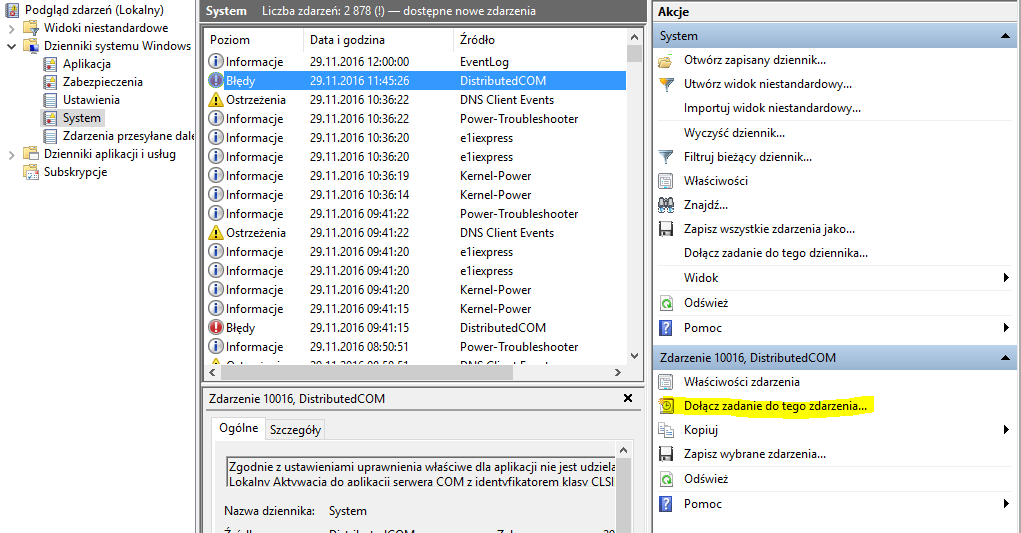 Jeśli masz pytania zapraszam do komentowania lub kontaktu.